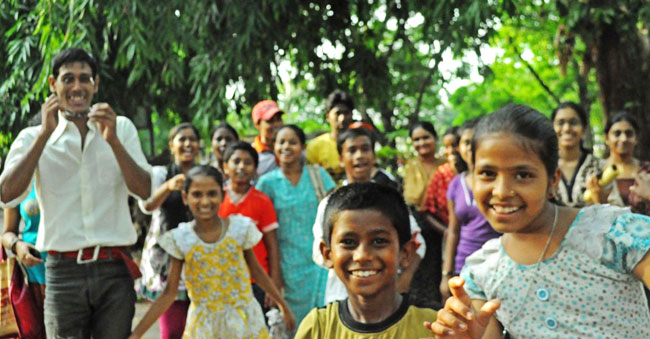 'Agami Nirman 2003' is an apolitical, non-religious organization dedicated to the uplift of the socio-cultural environment of society. Its initial venture was 'Kishore Baithak'. The endeavour continues to run successfully, by providing a platform for youth, the citizens of tomorrow, where through interactive discussions and debate their thoughts are guided to focus on relevant social issues. They are encouraged to develop healthy attitudes towards themselves and towards society in general. They lend caring support to one another and create a sense of fellow feelings among themselves, which goes a long way in strengthening them against the undesirables effects of a fast – moving modern lifestyle.
Creative writing and the annual publication of a magazine named 'Kishore Baithak' is another engaging activity undertaken and supervised by an editorial team of members while a newsletter reporting all activities is bi-annually published by the General Secretary, Sri Dibyaloke Rai Chaudhuri.
As the spread of Education in society contributes enormously to the growth and evolution of society, Agami Nirman has also launched drives to bring education in some form or another to those in society who cannot afford formal education. Among other social projects, Agami Nirman has established free/non formal coaching centres associated with music, yoga and drawing classes. There is also a medical clinic for underprivileged children. With the help of donations several scholarships have been created both for school education and higher education.
The role of Vocational Education in providing skills for employment among youth who are not inclined towards higher studies or cannot afford it is of no less importance. To that end Agami Nirman has opened a Vocational study centre where a Pre-Primary Teachers' Training course affiliated to the Netaji Subhas Open University is being conducted. Communicative English classes are also conducted separately by Agami Nirman at the centre. We look forward to expanding this venture in the future.
The Annual Cultural function of Agami Nirman provides an outlet for showcasing cultural talent among members who have formed a versatile and enriched Music department.