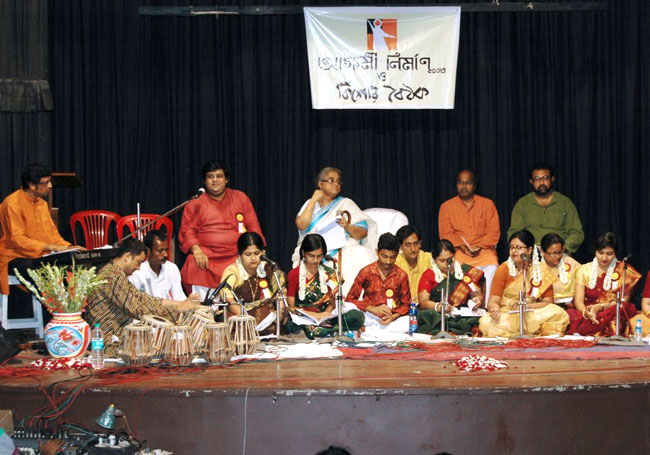 Some members of Agami Nirman 2003 guided by Smt Dipa Chattopadhyay have been very consistently developing talent in the area of traditional and classical music. Our young singers and musicians are dedicated to researching and presenting programmes on the origin and emergence of Bengali Modern songs. We strongly feel that this unorganized sector of the rich tradition of Bengali songs composed by the doyens of yesteryears is most underrated . We are therefore, proud of our music department which treats us to musical evenings during the annual function and on several other occasions.
Music Department
Agami Nirman 2003 has a music department under its wings from its inception. From the very first, the music department has concentrated on research and performance of Bengali Modern songs especially from 1930 onwards. We had been inspired and encouraged by such stalwarts like Late Sushil Kr. Chattopadhay, Late Ratu Mukhopadhyay, Late Sabitri Ghosh, Late Bela Mukhopadhaya. We had been blessed by the enthusiastic encouragement of Smt. Manjusree Das Gupta, wife of Late Sudin Das Gupta, Sri Srikanta Acharjee, Sri Prabuddha Raha, Smt. Nirmala Mishra, Smt. Banasree Sen Gupta and many more. Since inception, we are regularly performing a musical programme on the great lyricists and composers of Bengali modern songs from Rabindranath Tagore onwards on the last Sunday of April. The Music Department is an integral and important part of the organisation.
Throughout the long years many eminent personalities like Sri Avijit Bandopadhyay, Late Ratu Mukhopadhyay, Late Sushil Chattopadhyay, Sri Subir Sen, Smt. Nirmala Mishra, Smt. Banasree Sen Gupta, Sri Debjit Bandopadhyay, Smt. Riddhi Bandopadhyay, Smt. Kankan Bhattacharya, Sri Mihir Bandopadhyay, Sri Prabuddha Raha, Sri Kalyan Sen Barat, Sri Soumitra Basu, Smt. Sabita Chowdhury and many graced their presence in our organization.
Besides, the Annual Programme the music department takes the responsibility to the songs sung in any other programme of Agami Nirman like Swami Ranganathananda Memorial Lecture, Annual General Meeting.
Sarawati Puja
Saraswati Puja was started by the members of Kishore Baithak at the Tollygunge centre. The members themselves arranged the puja with donation from the Executive Committee members of Agami Nirman 200 and themselves. One of the kid acts as the priest after attending a one day training session from the Revered Nuns of Ramakrishna Sarada Mission (Matri Bhavan). Their worship includes songs and chanting of shlokas set to tune.
After the opening of the Sarsuna Centre, the puja shifted there. The members and the guests are served bhog prasad with khichuri and accompaniments are distributed to all including the residents of a nearby village mainly populated by poor people.
In the evening, the children participate in a colourful cultural programme of songs, dances, recitation etc.